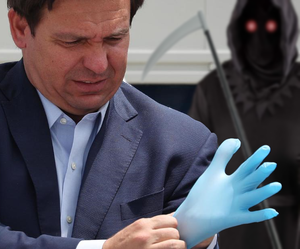 We continue to religiously shelter in place here at home. I'm not going to accept any work until June 1st.  In my opinion, we should all be waiting until at least July 1 but we will go with the flow, I guess.  So June 1 is kickoff.  In fact, a few of the many holes in my schedule are starting to fill in (Thanks Tracy@RCB!). A hopeful omen?
My reality is that a less-than-50% workload is likely, and anything more than that is a bonus.  But we are thankful to be alive!
Some of the COVID buzzwords and memes are becoming sorta tired; even irritating. If I hear "Draconian Measures" or "Hunker Down" one more time...
Does it seem odd that bowling alleys, nail salons, gyms, dry cleaners, tattoo parlors and professional wrestling are all considered to be essential? Maybe I'm just being Draconian. Or maybe it's just cuz we're Florida.
One thing our state did get right: The new Florida DEO system is much more efficient than the old one was. They rejected my second claim in half the time as it took for their old website to reject the first one.
By the way, why are so many people wearing their masks while driving their own car? I have a hard enough time wearing mine while I shop. You really don't need one to drive.
Sorry for ranting. I guess all the hunkering down is making me a little bit cantankerous.