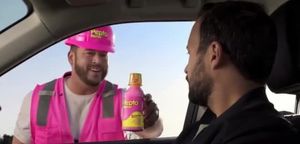 Some bucket list buckets should remain empty, I guess.
When I was 7 years old, I wanted to be a "blimp driver".  True.  We lived right across the causeway from the mooring mast of the Goodyear Blimp. It was maybe 2 miles from the house.  I thought it would be a dream job to fly that thing.  Wow, being the pilot of a giant lighter-than-air dirigible!  Or as I called it, a Blimp Driver.  I really wanted to be that guy.
My oddball bucket list hasn't gotten any less strange over the years.  I always wanted to be an extra in a zombie movie. Heck, I still do.  It would be fun to tell people "Man, you've got to check out Night Of The Living Dead Part 12.  It's streaming tonight at 4AM on the SHUDDER network.  I'm that (undead) guy at 31:47, crouching in the fog behind a beat up Airstream trailer, gnawing on a foot."
I also think it would be fun to sing TV and radio ad jingles; especially the ones with ridiculously mundane lyrics.  I remember a jingle for a local air conditioner shop called Able Air.  Arena-rock anthem music by a band that sounded a lot like Kansas.  The singer, at the top of his Steve Walsh-esque lungs, sang
"Able to be there when you need us.  ABLE AIR.  Quality service at its finest.  ABLE AIR!"
And I mean, he was really into it.  Like the future of the free world depended on your condenser fan's short circuited startup capacitor.
I wonder if "that guy" in the Pepto Bismol ads brags to his friends when his moment in the spotlight comes, every time they air it (which, by the way, is a lot).  You know; the ad where they're singing
"If you've got nausea, heatburn, indigestion, acid reflux"
and then he belts out
"DIAR...
Let's just stop there.  Trust me, he's not singing about his personal journal. If that's the only word I get to sing then I don't think I wanna be that guy.