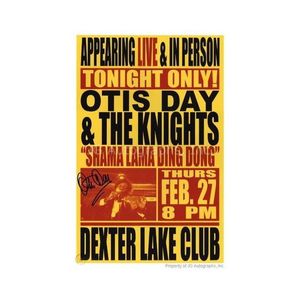 As I'm pretty sure I've said before, writing music doesn't come easily for me.  It's why, after all this time, I've done only one album.  You'd think though, that at least the lyrics shouldn't be too much trouble, considering some of the popular songs that have been written over the years.
1958 - Book Of Love (Monotones): 
Oh I wonder, wonder who, mmbadoo-ooh, who 
Who wrote the book of love? 
1963 - He's so fine (Chiffons): 
Do-lang-do-lang-do-lang 
Do-lang-do-lang 
1967 - I Am The Walrus (Beatles): 
Sitting on a cornflake 
waiting for the van to come 
1968 - McArthur Park (Richard Harris): 
Someone left the cake out in the rain 
I don't think that I can take it 
Cuz it took so long to bake it 
And I'll never have that recipe again 
1978 - Shama Lama Ding Dong (Otis Day and the Knights): 
Because you're 
Shama Lama 
Rama lama ding dong 
You put the ooh mou mou 
Back into my smile, child 
That is why 
That is why 
You are my shoobee doobee doo 
Yeah
1984 - New Moon On Monday (Duran Duran): 
Shake up the picture the lizard mixture 
with your dance on the eventide 
1994 - Loser (Beck): 
In the time of chimpanzees I was a monkey 
Butane in my veins and I'm out to cut the junkie 
With the plastic eyeballs, spray-paint the vegetables 
Dog food stalls with the beefcake pantyhose
2005 - Here We Go (Trina): 
Blah, blah blah 
Blah blah blah-blah 
I'm like uh-huh uh-huh 
OK OK
Woah.  Now that is deep.
By the way, regarding that Duran Duran song; I remember an interview with one of them (Simon LeBon, maybe?) who was asked about the lyrics of New Moon On Monday.  The interviewer said something like "I'm so moved by the sheer depth of the words.  The juxtaposition of man versus machine.  The struggle of the time/space continuum and how technology can stifle our ability to (etc, etc, etc...)".  He responded "I appreciate your enthusiasm, but no, I just put a bunch of words together that sound cool.  They don't mean anything."
Recently, Dave Grohl of the Foo Fighters gave a similar answer to the host of one of those daytime talk shows.  The host went on and on about the lyrics of their song Learn To Fly; about the escapism of it all, and how liberating and cathartic it must feel to release your inner psyche from the bonds of mankind's oppression and (insert big fancy words here...).  Dave's answer:  "Nope.  I wanted to be a pilot at the time.  I wish I had a better answer for you.  But like it says; I just wanted to learn to fly."