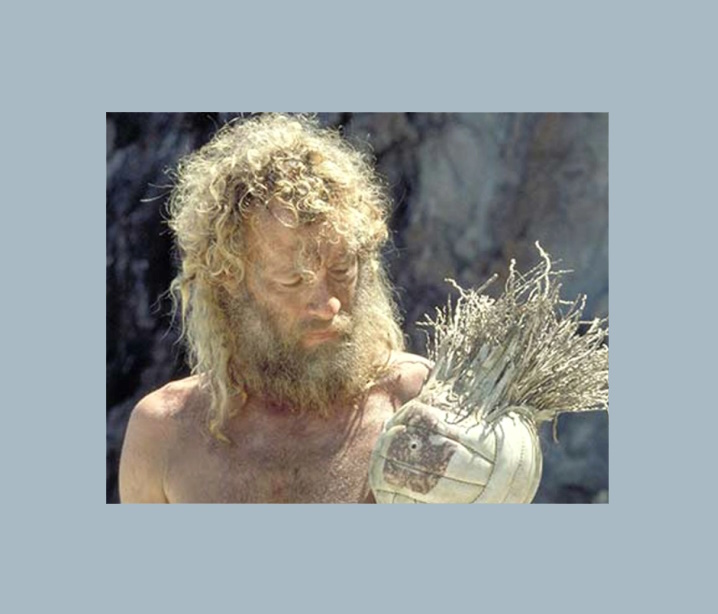 Not that you asked for it, but here, in no particular order, is my list of ten "Desert Island" albums; the ones that could possibly keep me entertained enough to not have to talk to a soccer ball. Never mind that there'd be no electrical power for my turntable, though maybe I could do the Gilligan's Island pedal-powered bit. Nah; I'm too lazy to use an exercise bike.
Aja     Steely Dan
Pictures At Eleven     Robert Plant
Live In The Air Age     Be Bop Deluxe
What If (or Free Fall or Night Of The Living Dregs)    Dixie Dregs
Suspended Animation     John Petrucci
Moving Pictures (or Permanent Waves or 2112 or Hemispheres)     Rush
Queen 2     Queen
Physical Graffiti (or Houses Of The Holy or Presence)    Led Zeppelin
Jailbreak     Thin Lizzy
Overnight Sensation (or Apostrophe)    Frank Zappa
By the way, I always thought that the movie Cast Away should have ended differenly. Like this:  After years on the island, faithfully protecting the FedEx box that washed ashore with him from the wrecked plane while being careful never to open it, Tom Hanks finally makes it back to civilization.  He drives across the country to the address that was labeled on the box, and hands the package to a woman at the door. She opens it in front of him, and says "Wow, I completely forgot that I had ordered that satellite phone and GPS from Amazon!".